---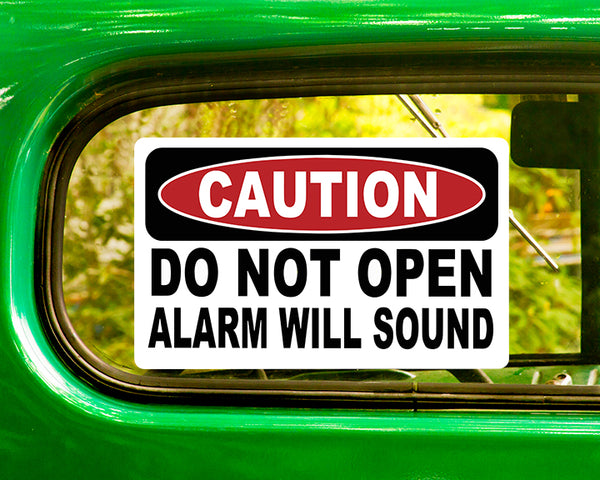 2 Caution Do Not Open Alarm Will  Sound 
Decals Bogo Vinyl Sticker
 For home, car, office, business, truck, 4x4, window, bumper, boat, rv and anything with a clean smooth surface..

2 Sizes: 4"W x 2"H
              6"W x 3"H 
              8"W x 4"H      
     All Decals are made to order, please allow 1 Business Day before shipping... 
All Decals And Stickers Come In sets of 2, You get 2 For The Price of 1...
All Decal sets are Shipped using USPS first class mail..
      
 If you buy three sets or more, you also get a free tracking number... 
   These are High quality Printed and Laminated
 decals and made to last 5-7 years or more.
 You can apply these stickers to anything with a clean smooth surface which can include vehicle windows, trucks, office, Business, helmets, cars, laptops, phones, tablets, skateboards, snow boards, motorcycles, mirrors, jars, etc, anything with a smooth clean surface. These Decals go Great on Coffee Cups, but please be sure to hand wash because these decals don't do well with the heat from dishwashers.


Directions For Application
Temp should be above 55 degrees.  
     Clean It: Wash Application area with soap water and allow to dry.
     Peal It: Carefully remove sticker from backing paper.
     Stick It: carefully Apply to surface making sure there are no wrinkles.
     Enjoy It......

        
Thank you for looking.